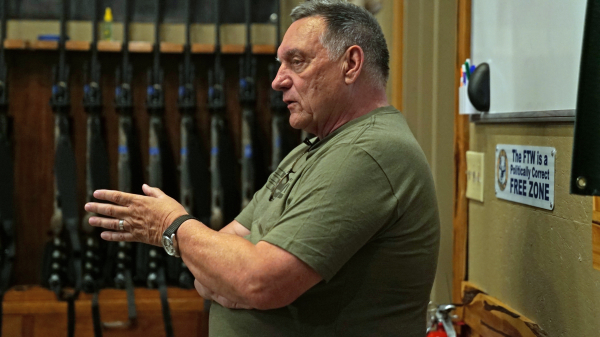 Like that popular/easy girl in high school, recently the reigns to oldest and possibly most iconic firearms brand in the world has passed between several CEOs. These supposedly brilliant executives, with no true passion for the outdoors, allowed Remington to lose sight of what made it one of the most trusted manufacturers of firearms. Mismanaged to the point the engine needed rebuilding—bankruptcy—consumers lost faith. Entering its 204th year, some are wondering if Remington can get back on the track. Ken D'Arcy is confident it can.
In June of 2019 D'Arcy became the CEO of America's oldest gunmaker. Last week I had the opportunity to talk candidly with D'Arcy about the things he enjoys like motorcycles, hunting, and racecars. What did I learn? For starters, D'Arcy is a competitor who is focused on winning, and winning is something D'Arcy has done as a professional race car driver. It's also something he did while serving as the CEO of Crossman, where he transformed a languishing local operation into a lean, cost-efficient, marketplace leader. While at Crossman, D'Arcy grew annual sales to $145 million after brining more new products to market during an 11-year tenure than during the previous 78 years combined.
Does D'Arcy have a plan for Remington? Indeed, he does.
While sitting in the lodge of the FTW Range, which is operated by D'Arcy's friend Tim Fallon, Ken told me his intention was to return Remington to its roots, by doing the things that made Remington the iconic brand it once was. What does that mean? It means D'Arcy plans for Remington to become better at building the things that made Remington famous. He wants Remington to once again connect with the American sportsman and become a maker of firearms that are passed—with pride and trust—from generation to generation. In short, Remington's goal is to once again hold a vaulted seat at the hunter's campfire. D'Arcy plans to guide Remington down this road, which reaches back more than two centuries, and take Marlin and Barnes Bullets along for the ride.
What a novel concept—do the things you're good at, and that made you famous. Will it work? I hope so, and I'm very optimistic.
At the drop of the green flag the outlook is promising; the Model 700 I shot while at FTW last week provided more precision than any rifle I've every pulled a trigger on. I also have to admit there's a little green in my blood. My first and most favorite centerfire rifle was a Remington 700.
But, running Remington is not your typical race—there's no checkered flag waiting 500 miles away. Remington's longevity lies in the effective management of a legacy; you either run competitively, near the front at all times, or the fans—consumers—find a new car and driver to ride with.
D'Arcy is in the driver's seat now and he knows that. He also has a capable and competent crew in his pit. Remington might be a lap down, but I'd not write them off.